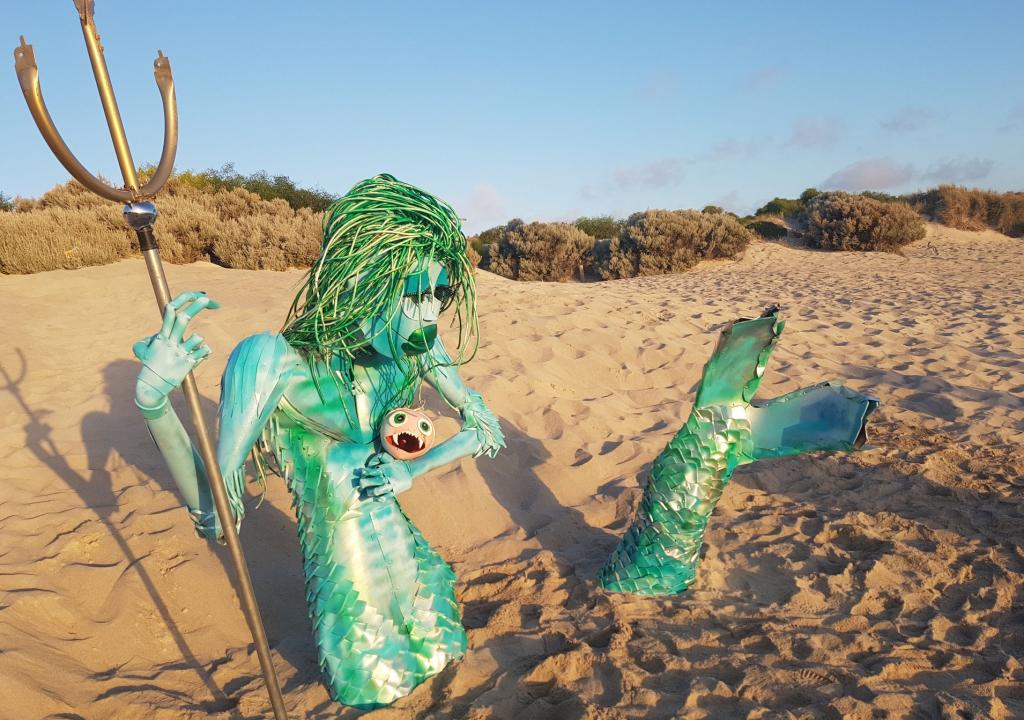 Coogee Beach Mermaid - designed and built with students from Spearwood Alternative School
Commissioned Works
The Junkadelic Arts Collective have been commissioned to build Junk Sculptures for a multitude of different clients, each with their own unique projects and outlooks. Some of our past projects & partners include;
Zephyr the Dragon – an 8m long Dragon designed and built with the Earthwise Community Group – suspended between trees.
A Large 2.5m wingspan Macaw for the Senor Pepper's Nightclub, Northbridge – installed above their DJ console.
A Multi-Sculpture interactive installation at the Tamala Park Education Centre in Joondalup for the Mindarie Regional Council.
The BIG BEE designed and built with the Vic Park Collective for the 2017 Vic Park Summer Street Party.
If you believe your business/event/community group has scope for a commissioned sculpture work by us, 'Contact Us'
School Sculpture Projects
Through Junkadelic's artist-in-residence programmes, we have gained extensive experience working with schools in both metropolitan and regional areas. In addition to making and playing instruments from reusable household rubbish, Junkadelic workshops have also included costuming, garden sculptures, puppet building and large scale festival float building. Some of our previous schools works include;
'Tyron Treadbark' – a 4m tall tree made from car and bicycle tyres – built with local Nannup residents and school students for the Nannup Festival.
A Large Gecko – designed & built with the Duncraig Education Support Centre Students – installed in to a tree.
A Large Dragonfly – designed & built with the Rossmoyne Primary School River Rangers – suspended between trees.
A Large Kraken – designed & built with the Regent College River Rangers – installed in to a tree.
The 'Croco-Xyle' -  A 4-meter long interactive playable music instillation at the Beswick Community Arts Centre in the Northern Territory, built with the students from the local Beswick Community Primary School.
Does it sound like a Junkadelic Sculpture Project would be an awesome idea for your school? Then let us know! 'Contact Us'
Parade Floats and Costume
The Junkadelic Arts Collective have also been involved with many large-scale festival float building workshops with people of all ages – most with little experience making and building artworks. Our past festival float credits include;
The Fremantle Festival
The Joondalup Festival
The Zig Zag Festival in Kalamunda.
If you have an involvement with a parade event and need experienced float builders to help you stand out and look great, get us on board! 'Contact Us' and let us know what your requirements are to secure our involvement!